I saw some celebrity online wearing a very pretty knit scarf that was thick. I didn't want to spend a million dollars to look like that celebrity, rather, I spend seven and made this scarf below. :)
This is also another great pattern for someone who wants to practice up on their knitting and purling while creating something beautiful. Also great for newbie knitters who want to branch away from garter stitch scarves. :)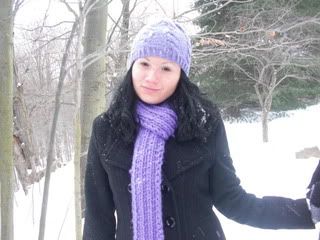 It was an easy make, and only took me a few days considering it's a little over siz feet long!
GAUGE: 3sts and 3rows= 1"x1"
YOU WILL NEED:
Sz.15 needles.
2 skeins of Lion Brand Hometown USA or a yarn that knits up the gauge mentioned.
TERMINOLOGY:
CO: Cast On
St(s): stitch(es)
K: Knit
P: Purl
BO: Bind Off
RS: Right Side (the side that will be showing)
WS: Wrong Side (the side that will not be showing in most cases)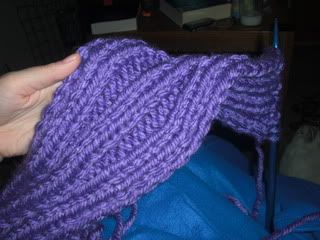 The pattern is a simple p2,k2,p2,k2,p2,k2,p2
INSTRUCTIONS:
CO 14 sts.
On the RS of the scarf, use the above pattern mentioned.
On the WS of the scarf, knit into the purl sts and purl into the knit sts. (So basically instead of p2,k2,p,2k2,p2,k2,p2 it would be k2,p2,k2,p2,k2,p2,k2 on the WS. Once you get past a few rows, no matter what side you are working on you will be able to see the pattern and it won't involve much remembering!)
Continue this pattern until you receive your desired length. I used both skeins for a total of 162yrds, which made the scarf a little over six feet long.
Now all you have to do is wear it with confidence and a cute hat and you're good to go! ;)
Any questions, feel free to ask!
Happy Knitting!