This pattern was an inventive one to say the least, considering I normally do patterns that other avid knitters have created because I am frightened of wasting perfectly good yarn.
To my amusement, this came out better than I thought it would, so I'm providing the pattern below. Congratulations viewers, this is the first hat pattern I've personally created!
You will need:
Size 10 16" circular needles
Size 10 DPNs
A needle to weave in loose ends and sew the flaps to the hat
scrap yarn of the same or similiar color.
A skein color of your choice in Bernat Boucle.
Two buttons that go well with the yarn.
A sewing needle
Similiar colored sting (to sew the buttons on!)

Terminology
K: knit
CO: Cast Off
M: Make
The size of the hat is a large, but fits well on smaller heads. I created this hat originally for my stepfather for Christmas, and he has a larger head (said lovingly) than I do. My head is a medium size, and it fit well, and perfect on his, with room to spare.
Bulkier yarn worked up beautifully with this pattern. I don't think I'd use worsted weight for this hat, seeming as it just wouldn't have the same feel as a bulkier yarn would.
NOTE ABOUT THIS YARN:
I really loved using it, but when you tie off, do it gently, as this yarn is one of those beautiful but deadly knitting ones. If you aren't gentle, there's a good possibility that it will rip. I found that tugging gently a few times when finished and then securing it with another piece tied to it works well. Just throwing that out there. :)
THE ACTUAL HAT
To start, cast on 80 sts.
Knit in the basic stockinette stitch in the round for about 4 1/2 to 5 inches. If you're unsure of length, just knit until it just reaches the top of your eyebrows. The stockinette stitch works great with this yarn since it's bulky, and I've found any other stitching with this yarn doesn't look as nice.
Once length is achieved, start decreasing as you would a normal hat. Remember that if the sts become to tight, switch to DPNs! They're a real lifesaver on hats!
K10, K2TOG. Knit till end.
K9, K2TOG. Knit till end.
K8, K2TOG. Knit until.
Continue on...
Knit the final two sts remaining together and bind off. You've completed the actual hat part. Set aside and pick up your DPNs once more to start creating the ear flaps.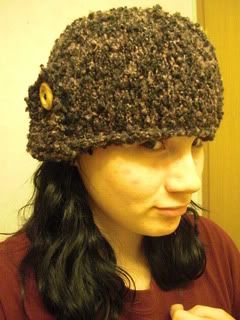 THE FLAPS
Cast on 14 sts onto a DPN.
Knit 1 row.
On the next row: K1, K2TOG, Knit until the end.
Knit 1 row.
On the next row: K1, K2TOG, Knit until the end.
Continue this pattern of knitting a row, then knitting two together on the next row until you have a remaining total of 10 sts on your DPN.
Once you have 10 remaining, knit for 5 rows.
After you finish knitting five rows, on your next row: K1, K2TOG and knit until the end.
9 sts remaining.
Knit 3 more rows.
After the 3rd row: K3,CO3, M3 with the backwards loop method, then knit until end.
Continue to knit three more rows, and then cast off. There's your ear flap! Do the same for the next flap.
Attaching Flaps and Adding Buttons
Align the flap where you'd like it, take your yarn needle and attach with the same colored yarn, or scrap.
Make sure the button holes are in the front of the hat (meaning that one isn't in the front and the other in the back. This happens when you mismatch which way to put the flap.)
Be careful when aligning the buttons with the button holes, make sure they are even before attaching with regular thread and needle.
A smaller, medium sized button is recommended. I used a basic wooden button with four holes from JoAnn Fabrics.
That's all there is to it! Enjoy your hat!
Any questions, feel free to ask. :)