There are so many cup cozies out there with nice patterns, but I found a love of simple and beautiful projects. Sometimes all you need is the right mug, and a garter stitched cozy to make something extraordinary. That's what this is.
In a span of a day consumed with cleaning, errands, pets, and utter insanity, I managed to get this knit over a few hours span. It's a quick, easy knit.
Gauge: 5 sts and 5 rows= 1x1" on Sz. 9 knitting needles
YOU WILL NEED:
A worsted weight yarn of your choice
Sz. 9 knitting needles
A pretty button
TERMINOLOGY:
CO: Cast On
K: knit
ST(S): stitch(es)
This cozy is created for mugs with a circumference of 12"
Of course, you can always adjust it to fit your mug. ;)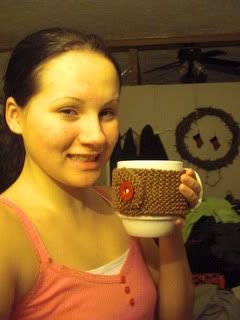 INSTRUCTIONS:
CO 11 sts.
Knit basic garter stitch for five rows.
On the sixth row: K4, Cast Off 4, M4 w/ backward loop method, K to end of row.
**Remember when making your sts you put the last stitch you used to Cast Off back onto your left needle before starting the making of your new replacement sts. This helps create a clean hole instead of leaving a small yarn knitted tightly in the middle of the hole, making the hole unusable.
Continue to knit until the entire piece measures 11".
I didn't knit until the 12" circumference because the yarn can stretch a bit, and I'd rather have a tighter cozy than a loose one so I don't drop the mug!
Bind off, find the placement spot of your button (mine was about a half inch inward of the Cast Off end) and sew it on, and you're done. :)